This day is being facilitated by Vanessa Trevelyan, Museum Consultant and Adviser
This event is suitable for anyone  working with boards or line managers who needs more confidence to engage boards with professional museum issues and achieve the desired outcome for their organisation.
Objectives:                 


To give people confidence to speak up


To enable people to analyse their situation and then take action


To understand the principles of negotiating and achieve a win/win


To develop listening skills


This event is arriving after 9.45 for a 10 am start 
---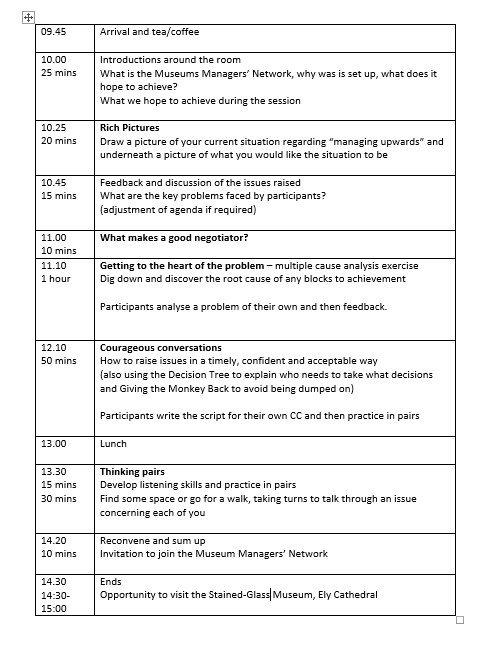 Terms & Conditions:
 Full details of our programmes conditions can be found on our website. 
By booking a place on to SHARE Museums East Training Programme, you are agreeing to the following terms and conditions:



That you are from an East of England museum or heritage organisation which is in the Arts Council England's Accreditation Scheme. Where this is not applicable you acknowledge that so that we can aim to facilitate your attendance if we can. (This may involve a fee).




It is a condition of receiving this ACE funded training that the online evaluation sent to the email address provided at the point of booking is completed by the specified deadline. This deadline is in the email notification unless a paper evaluation is specifically requested and submitted on the day of the training session.




By booking a place you agree that you are booking as a representative of your organisation and should you cancel your booking without sufficient notice your organisation is responsible for paying the late cancellation fee of £50.